I've been wanting to write this post for a while now, especially after reading this Huffington Post article featuring Tim Gunn. He is someone I truly admire who has a positive voice in the world of style and fashion.
In the article, he said:
"When I'm working in the real world with real women and we're shopping, we find that fashion seems to end when you get any larger than a size 12.  How ridiculous is that?"
Ummm… totally ridiculous actually. Unfortunately, it's true.
As a style consultant, I too work with real women.  Women who are tall, petite and plus-size.  I work with those who have short torsos, long torsos, big hips, small hips large chests, no chests… you get the point.  We are all different.
When it comes to plus-size people, I can appreciate the challenges faced when it comes to finding garments that fit properly.  I have to say, I'm extremely disappointed when I walk into a plus-size store or plus-size section of a department store to see what's available for my clients.  I'd equate my sentiment to what Tim Gunn said in the article:
"Go to Lord & Taylor on Fifth Avenue, I think it's the eighth floor, and it's just a department called 'Woman.' It's rather devastating. You've never seen such hideous clothes in your entire life. I mean, it's simply appalling. Thank God there are no windows on that floor, because if I were a size 18, I'd throw myself right out the window [after seeing those clothes]. It's insulting what these designers do to these women."
When I was worked full time as a management consultant, I worked on a project for the Canadian Obesity Network (CON). I was so interested in this organization that I subscribed to their magazine.  In the first issue that I received, I found this article (you'll have to go to pg. 12 to read it).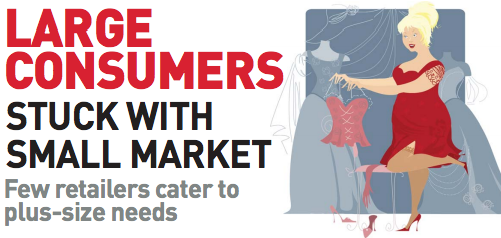 Even though this article is from 2009, many of the points mentioned, about why retailers and designers don't cater to plus size people, seem to remain true.  Disappointing huh?
Along the same vein, I saw this video a few months ago from Jimmy Kimmel Live.  For those that haven't seen it as yet, you must watch it.  Though I bring up this video, I don't think that all brands have to cater to all markets – that would be absurd.  Abercrombie and Fitch has a marketing strategy for who they target and that's perfectly fine. What is not fine though, were the comments made by the company's CEO about the type of customer they wish to attract – and detract – from their retail locations (I believe these comments were made in 2006 but they went viral earlier this year).  They were disappointing and extremely discriminatory.  Look em up if you're interested because I'm not posting that crap on my blog.
My understanding is that sales aren't so hot and the company's shares are down…
The Good News
The good news, as I see it, is that the market for plus-size clothing is growing.  People are demanding better quaility and more stylish, fashion forward options.  Retailers and designers are responding.
I watched this video (it's long but really worth it) and was quite inspired by the fashion designer, Kenyatta Jones,  who decided that settling for what has always been done is just not good enough.  I really like her message.  She feels she is giving her clientele confidence more so than providing them with great fitting garments.  Love it.  Her line is called Bella Rene.  She calls plus-size women "the forgotten women" of fashion.  How sad is that?
Since that CON magazine article was written in 2009, there are many more designers offering up plus-size clothing lines.  Just look at the number of designers showing plus-size lines at New York Fashion Week (compared to only a few short years ago). This is really encouraging… and more and more like VISA (everywhere you want to be). I know, goofy but totally true.
I am hopeful that, as we move forward, more and more designers will seize this opportunity – one that they have missed out on for so long.