Sunglasses really are the ultimate accessory.  Right now, I'm loving ones with tortoiseshell frames. Here are a couple of amazing pics for this week's Friday Find.
For the ladies…

If you haven't heard of Warby Parker, you've been living under a rock. I love that you can pick the right frame for your face shape right online. This is the perfect alternative to heading to an optical store especially if you're busy or price conscious.
Without prescription lenses, these frame are $120.
I love the shape. These are a classic style which means your $$ will stretch further.
For the gents…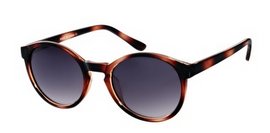 ASOS- Keyhole Round Sunglasses
At $21, these sunnies are a steal of a deal.
Though they are at a lower price point, they do have UV protection.
They are exclusive to ASOS. Love that.
They are ultra stylish and will definitely elevate your entire outfit.
Happy Friday… and 4th of July for our neighbours to the south.