I have a few friends who are preggers right now (yay… so happy for them).  Like all the women before them – and all those who will come after them – my friends are struggling to find work-appropriate maternity garments that:
Don't look cheap
Have shape (a maternity wardrobe consisting of baggy sweaters and leggings doesn't look professional)
Aren't made with jersey or any kind of stretchy material
My friends want to look professional throughout their pregnancy, each and every day (ok, well most days).  I'm sure you agree with this!
In today's Friday Find, I'm going to tackle one garment type that is essential to any winter wardrobe – a winter coat.  I'm not talking about the puffy, snowman winter coat either ladies.  I mean a maternity winter coat that looks professional and put-together while allowing room for your growing baby bump.
Now, I know that some of you are thinking that the shapeless A-line puffer or wide poncho/cape will do the trick but these cuts are giving you no shape.  As you continue to grow, they will make you look bigger than you are.  Why would you want to do that to yourself – pregnant or not?!
Maternity winter coats with a strong professional feel: 
These coats tackle my three points above- they aren't cheap-looking, shapeless or stretchy). Take a look: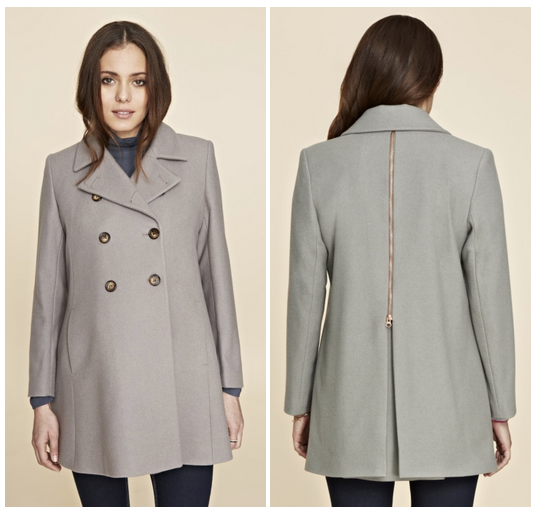 Isabella Oliver: Alma Maternity Coat
I love the modern spin on this classic style.  The exposed zipper in the back is awesome; go ahead and unzip it a bit as you continue to grow.
Now, this isn't on sale – it's $415.  I included it in my Friday Find because I feel that you could do some minor tailoring to it (nip it in) and wear it again when you head back to work.  In other words, it's an investment piece.

ASOS: Maternity Fit and Flare Coat
This style is great; it will accentuate your waistline and flow away from your body.
It's got a very feminine feel to it.
It's on sale for $98 (ASOS has free delivery worldwide – awesome)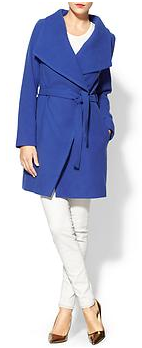 Pim + Larkin: Funnel Neck Coat
The colour is striking.  If you feel like making a statement, this one is for you!
Now, this isn't a maternity coat but it will definitely work as one.  A wrap coat is wonderful in that you can loosen it up as you grow.  Make sure you nip in that belt above your baby bump; this will give you more definition through your waist.
It's on sale for $89.99 at Piperlime.
If this colour isn't your thing, the coat is available in camel.  That one is at regular price ($149).
Happy Friday!